Reporting Lost and Damaged Items
Submitted by

admin

on Wed, 2013-01-23 16:34
If an item has been in transit for three weeks or longer, please use the form found on your library's participant page to report it missing. Instructions for finding your participant page and the appropriate form are below:
Type in your location number or institution name in the light green search box toward the bottom of the webpage.
Click on your institution name from the list that pops up below the box to access your Participant Page.
Click on the "Report Lost Items" button to access the lost items form.
Please complete the form in its entirety. A sample of the form is shown below: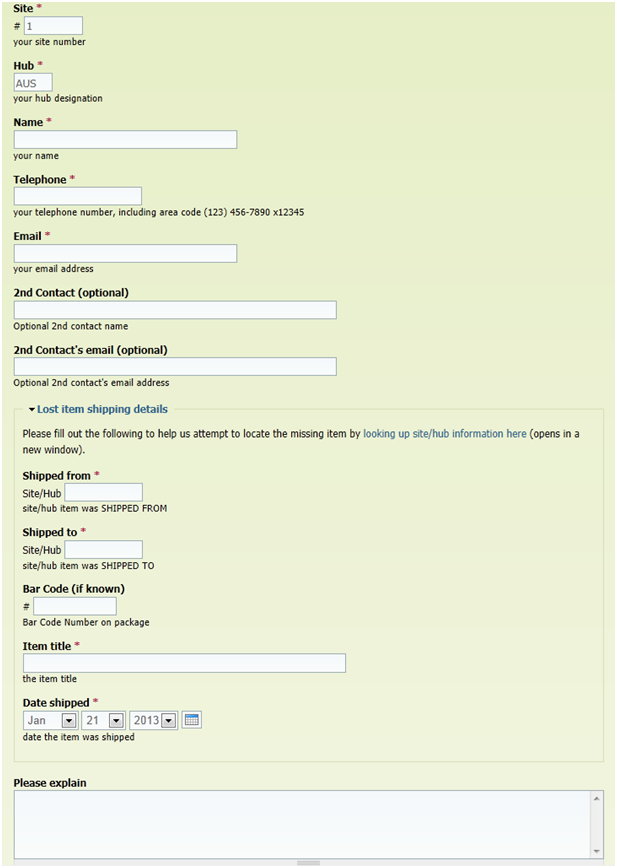 Special thanks to UT – Austin for letting Amigos use their library in our example form.
Once the form is submitted, Amigos will search the barcode scans from the sending library on the day the item shipped. Amigos will follow up with the reporting library, then alert the courier and report the findings from the barcode search. Reimbursement for the replacement cost of the item will be offered to the lending library if the item is still missing three months after the date it was reported missing, and if the item was shown to be lost in transit from the barcode scans. Amigos will reimburse for items lost within the last 12 months.
For damaged items, please email tae@amigos.org immediately. Include pictures if possible. Amigos will reimburse the lending library for the replacement cost of the item.
Please note: that these policies apply only to lost or damaged items sent within the TAE courier service. Items sent to KLE, MALA and Mobius libraries are not covered. KLE, MALA and Mobius libraries follow ALA guidelines regarding lost and damaged items: http://www.ala.org/rusa/resources/guidelines/interlibraryloancode