The Library's Role in Supporting Open Educational Resources - speakers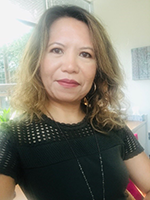 Follow @drgong
Keynote Speaker: Regina Gong
Keynote Session Time: 10:00 - 11:00 a.m. CST
Keynote Session Title: Paving the Way Towards Students Success: Librarians as Leaders and Partners in OER Initiatives
Session Description: The open educational resources (OER) adoption in higher education institutions has grown exponentially in the last ten years. While a great deal of focus is on the benefits of OER to students (affordability, access, and success) and faculty (agency and freedom), less attention is given to those who are doing the hard work of leading, implementing and managing these OER projects. This keynote presentation will highlight the work done by librarians in advancing awareness of and advocacy for open education. How can librarians provide meaningful support and be an integral partner to the different stakeholders on campus to encourage and sustain OER adoptions? More importantly, I will share how we as a community can ensure that our work is supported, valued, and celebrated.
Speaker Bio: Regina Gong is the Open Educational Resources (OER) & Student Success Librarian at Michigan State University (MSU) Libraries. Before joining MSU, Regina was the OER Project Manager at Lansing Community College (LCC) where she led a very successful OER initiative. Regina is well-known in the open education community and has done numerous national presentations and webinars on OER. She is a staunch advocate of openness, equity, and access through her involvement on the SPARC Open Education Advisory Group (2019-2022), SPARC Steering Committee, and Executive Council member of the Community College Consortium for Open Educational Resources (CCCOER) where she served as VP for professional development. She is also in the MI Statewide OER Steering Committee; 2019 Open Education Conference Program Committee, and an OER Research Group Fellow. Regina obtained her Masters in Library and Information Science (MLIS) at Wayne State University and is currently pursuing Ph.D. in the Higher, Adult, and Lifelong Education (HALE) Program at Michigan State University (MSU).

Speakers: Liz Thompson and Jessica Lantz
Session Time: 11:15 - 12:00 p.m. CST
Session Title: Library and Academic Discipline Partnerships: Building a Foundation of OER Knowledge in Teacher Education Students
Session Description: As libraries support OER across an institution, that support looks different in each discipline. In teaching future educators, building early awareness of OER for pre-service teachers creates a foundation for future growth. In a higher education institution's College of Education, librarians and instructional designers interact with both faculty educators and students that are completing a degree to become PK-12 educators. Libraries can help build OER awareness through in-class instruction, outreach pop-up events, and online resource guides. The Library began this project in an effort to raise awareness of OER concepts before the students begin their professional teaching careers. By gaining awareness while they are in teacher preparation programs, the Library hopes that the new teachers become aware of the possibilities of OER and champion these resources in their future schools. This session explores how the library supports each of these intervention methods, with strategies that are applicable to multiple academic disciplines. We will explore strategies for determining initial awareness in the student population, intervention implementation strategies, and potential challenges encountered during a multi-year Library led OER awareness implementation. Participants will gain ideas for strategies to increase awareness of OER concepts and resources, and consider ways libraries can build the foundation to support faculty and students in understanding and using OER.
Speaker Bio: Liz Thompson, Instruction and Educational Resource Coordinator, is an Assistant Professor at James Madison University (JMU) and holds a Master's degree in Library and Information Science. She promotes information literacy, open educational resources and open access and collaborates with JMU Libraries and across campus in support of these efforts. Liz has been an OER Research Fellow and is co-Principle Investigator on an Institute of Museum and Library Services (IMLS) grant, Supporting OA Collections in the Open: community requirements and principles (LG-73-18-0226-18).
Speaker Bio: Jessica Lantz, Instructional Designer, is an Assistant Professor at James Madison University and holds Master's degrees in Library and Information Science and Educational Technology. She is co-editor of the Handbook of Research on Integrating Digital Technology With Literacy Pedagogies and has published on topics including 3D printing and digital storytelling in PK-12 contexts.

Speaker: Andy Newgren
Session Time: 11:15 - 12:00 p.m. CST
Session Title: Teaching Information Literacy OER
Session Description: This session will look at the impact of using an OER for a 1-credit information literacy course at the undergraduate level. Special attention will be paid to the rationale for adopting an OER, incorporating OER with other course materials, lingering obstacles and issues, assessment, and a reflection on moving forward. Participants will also have an opportunity to offer feedback and discuss how to tackle OER adoption while maintaining a pedagogical focus on the ACRL Framework for Information Literacy.
Speaker Bio: Andy is the Reference & Instructional Librarian at Rockford University where he guides the information literacy program across the disciplines. He has an MLIS from Rutgers and an MDiv from Princeton Theological Seminary. His research interests focus on the intersection of theologies of liberation and information literacy.

Speakers: Lisa Louis and Kellie Smith
Session Time: 11:15 - 12:00 p.m. CST
Session Title: Learning to Open: Working with Faculty in a Community of Practice on Open Educational Resources
Session Description: Texas A&M University has had an Open Educational Resources Task Force since 2017, and one of the early activities of this task force was to brainstorm ways to engage faculty with the concept of open education. A subcommittee of this task force which met to consider this question proposed several ideas, one of which was to create a Community of Practice that would give faculty the opportunity to learn more about open educational resources, and require them to re-envision their teaching with open pedagogical practices in mind.

In this session, Lisa Louis, Head of Research and Learning at Bell Library, and Kellie Smith, Assistant Professor of Communication and Director of the Center for Faculty Excellence, will discuss the concept of a faculty community of practice, the design of the community of practice on open educational resources, and the outcomes from this past year as well as plans for the future.
Speaker Bio: Lisa Louis is Head of Research & Learning at Texas A&M University-Corpus Christi's Bell Library. She graduated with an MLS and a Masters in Interdisciplinary Studies from the University of North Texas in Denton, Texas. She has worked in several different library settings over her varied career, including academic, public and law libraries. In her current position, she manages research, instruction and scholarly communication services, serves as the OER librarian, and is the liaison to the College of Business. Lisa has served as the Chair of TAMU-CC's Open Education Task Force since its inception in 2017.
Speaker Bio: Kellie Smith currently serves as Assistant Professor of Communication and as the Director of the Center for Faculty Studies at Texas A&M University-Corpus Christi. She received her Ph.D. in Organizational Communication from Texas A&M University, an M.A. in Communication from Texas A&M University-Corpus Christi and a B.A. in Religious Studies from the University of Texas at Austin.

Speakers: Liz Phillippi and Kyla Hunt
Session Time: 12:15 - 1:00 p.m. CST
Session Title: OER - Ready or Not Here We Come!
Session Description: The purpose of OER is to help educators create their own content and/or curriculum using open resources and sharing that content with others in the field of education. As librarians we need to work towards

finding ways to curate these resources to help educators find, use, and share the created content. We need to be the repositories of this information so that we can encourage our teachers and students to create original content that can be shared worldwide. In this session we will discuss the current statewide OER tools in K-12 and Academia, and how we can grow those resources to ensure that our students; both K-12 and college, have the best, most accessible resources possible to enable their success. Lastly, how can we build a bridge between the K-12 and Academic environment for OER that will help our students succeed?
Speaker Bio: Liz Philippi has worked as a School librarian for 30+ years at elementary and secondary campuses. Most recently she worked as the library systems administrator in Spring Branch ISD, and as the Manager of Library Services in Houston ISD. Liz has worked in various states including Texas, Tennessee, and Louisiana. Currently she works at the Texas State Library on the State School Library Program Standards, TexQuest, ESSA issues, and helping school librarians all over the state of Texas.
Speaker Bio: In her role as the Library Management Consultant for the Texas State Library and Archives Commission, Kyla Hunt provides training and consulting to libraries throughout the state of Texas. She currently manages the Small Library Management Training Program, a training program targeting libraries that serve populations of under 25,000.
Kyla began her career as Children's Librarian for the Lloyd Taber-Marina del Rey Branch of the County of Los Angeles Public Library System. She then went on to work in a variety of libraries and nonprofit organizations, including Amigos Library Services, TechSoup Global, and Concordia University Texas in Austin. She has provided a variety of online and in person trainings on topics varying from literacy in libraries, graphic novels, reference services, and web site design. She received a Bachelor's Degree in English and a Master's Degree in Information Studies from the University of Texas at Austin.

Speaker: Victoria Raish
Session Time: 12:15 - 1:00 p.m. CST
Session Title: Holistic OER: Identifying the Gaps
Session Description: Open educational resources are a value add from multiple perspectives. Primarily, they reduce cost to students. However, they also have benefits from the following perspectives: faculty publishing, marketing and recruiting, and educational equity. Some fields have a much easier time in finding and using OER than others. This session will discuss some of the current limitations to OER (primarily in fields where material is harder to find) and approaches for filling some of these gaps.
Speaker Bio: Victoria Raish is the Online Learning Librarian for Penn State University. In this role she is focused on providing equivalent access to online students. As part of this role, Victoria leads and participates in OER initiatives on campus.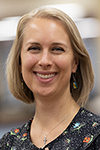 Speakers: Stephanie Hallam, Kris Baranovic and Pat Willingham
Session Time: 12:15 - 1:00 p.m. CST
Session Title: Open Educational Resources: Build a Lesson Using Free Government Resources
Session Description: An Education Information Librarian, a Government Documents Librarian, and an Instructional Designer will show participants how to create an OER lesson using government documents. Gain hands-on experience with open pedagogy approaches that can be applied to a variety of disciplines as participants build a lesson about an aspect of World War II. These approaches can be used to encourage faculty to integrate OER and primary source materials into courses. The workshop will conclude with questions and a discussion of experiences as well as suggested applications for future use. Participants will receive a list of resources to take with them.

Speaker Bio: Stephanie Hallam is the Educational Information Librarian at Southeast Missouri State University. In addition to being a subject liaison, providing reference, and teaching information literacy, she collaborates with faculty and students to locate and use OER.



Speaker Bio: Kris Baranovic is an instructional design specialist and adjunct instructor at Southeast Missouri State University. He enjoys walking and freely accessible course content.
Speaker Bio: Pat Willingham is the Government Documents Librarian at Southeast Missouri State University, and provides both general and documents reference assistance and instruction.

Follow @viegerrayne
Speaker: Rayne Vieger
Session Time: 2:00 - 2:45 p.m. CST
Session Title: Aligned Course Design with OER
Session Description: We know that faculty adoption of OER can help save students money. However, a positive, engaged student learning experience isn't guaranteed without careful thought and planning into the larger design of a course. In this session, an eLearning and OER librarian will discuss the dual nature of her role and how her past work as an instructional designer enables her to support OER efforts in her library. Participants will learn about backwards design and instructional design methods to help support faculty in designing an aligned course that incorporates OER. Participants will walk away with resources and tools to help get their faculty started with course redesign.
Speaker Bio: Rayne Vieger is an eLearning and Open Educational Resources Academic Librarian for the University of Oregon, where she leads the library's initiatives in online learning and OER. This role brings together digital scholarship with digital pedagogy through instructional design, open education, educational technology, and the integration of faculty-based digital scholarship and research into teaching and learning. Rayne enjoys providing instructional design services and faculty development opportunities related to best practices in the online and hybrid learning environments, and the adoption and creation of OER.
Prior to this, Rayne served as an Assistant Director of Instructional Design for Oregon State University Ecampus, where she led a talented team of instructional designers in the design and delivery of fully online and hybrid degree programs. After earning a B.A. in English Literature and a M.S. in Library and Information Science from the University of North Texas, Rayne spent seven years working in the field of instructional design and faculty development at both the University of Florida and Oregon State University.

Follow @OER_Librarian
Session Cancelled
Speaker: Kelsey Smith
Session Time: 2:00 - 2:45 p.m. CST
Session Title: Perfecting the Art of the Reference Interview in OER Support Roles
Session Description: As Open Educational Resources continue to facilitate equity and access in higher education, many academic reference librarians are finding themselves integrating new OER-related roles into their work day. Librarians already possess many of the skills and tools needed to lead the way in Open Education movements at their institutions, but the tried and true reference interview is the key to success. This session will examine the role of the reference interview and other skills in assisting faculty in finding and integrating OER into their classrooms. As Tyckoson (2003) stated, "Our tools will evolve and change continually, but the process of communicating with the patron to determine her or her information need will not." Participants of this session will explore: The ways in which librarians are a natural fit and central to the Open Education movement; Best practices for the OER-related reference interview and working with faculty; How to clearly define roles for the library/librarians that will be working with OER.
Speaker Bio: Kelsey earned a bachelor's degree in psychology and a master's degree in Library and Information Science. She started her work in academic libraries in 2014, begining with reference and information literacy instruction, then made the transition to Open Education in 2017. While continuing to teach information literacy courses at the College of the Sequoias, she spends most of her time delving into the intricacies of open licensing, copyright, and instructional design. A resident of California's Central Valley, Kelsey often works with many faculty members across the state as West Hills College Lemoore plays a technical assistance role in the California Zero Textbook Cost Degree Grant. Kelsey enjoys enlightening faculty members on the joys of using Open Educational Resources in their classrooms, both online and face-to-face.

Speakers: Maura Valentino and Geri Hopkins
Session Time: 2:00 - 2:45 p.m. CST
Session Title: No Textbook Cost General Education Pathway: An Effort to Increase Retention at Central Washington University
Session Description: Textbook costs have risen at a rate much higher than inflation and are often a burden on students. More importantly, costly textbooks lead to a two-tiered learning environment in which some students have the resources necessary to succeed while others do not. Providing equal access to materials increases student success and retention.

In the fall of 2018, two librarians embarked on a project to create a zero-cost textbook path for students through the Central Washington University's new General Education (Gen Ed) curriculum. Funding for the project was acquired via grant from the Washington Student Achievement Council, which then allowed the project to offer $1,000 stipends to instructors, provided they replace current for-profit textbooks with zero-cost (to the student) resources in a new Gen Ed course. Participants included several instructors from each college on the university campus, and from each Knowledge Area and Pathway within the Gen Ed program.
Finding materials for the wide array of topics was challenging, but the volume of free information available, in combination with licensed CWU library materials, included more than enough content to provide willing professors with quality materials aside from traditional textbooks. The cost savings to students was phenomenal. For the first year, the project saved students between $358,000 and $600,000, depending upon whether they purchased the least expensive or the most expensive copy of the previously required textbook, as was available in August 2019. The project will affect 5,200 students. This session will cover this project from the grant application to assisting professors in discovery of appropriate resources, to determining the cost-savings to the students. The project also includes surveys of the faculty and students as part of the grant and will have a basic analysis of the data Fall 2019 course data.
Speaker Bio: Maura Valentino is the Scholarly Communications Librarian and Head of Digital Initiatives at Central Washington University. She is currently managing a grant to create a path through the General Education program with no textbook costs. She is part of the NW Copyright First Responders Cohort One and has completed CopyrightX training at Harvard. Maura has research interests ranging from Open Educational Resources to using improvisational comedy to improve student group work.
Speaker Bio: Geri Hopkins is a sports fan, motorcycle enthusiast, and dog lover, who also works as the Instructional Design Librarian at Central Washington University. Ger's mission at CWU is to help instructors, especially the online instructors, create good course design and show them how to find engaging resources that work better for online courses. Geri's efforts at spreading academic bliss include teaching research methods, fixing broken courseware tools, and evangelizing on the joys of teaching and learning equity by switching to OER and library resources to keep costs low for students and boost happiness.

Follow @MMichelleMoore
Speaker: Mary-Michelle Moore
Session Time: 3:00 - 3:45 p.m. CST
Session Title: Working with Student Advocacy Groups to Raise Awareness of OER
Session Description: Our institution is a medium sized, Hispanic-serving, research university with an extremely diverse student body, a strong campus culture of advocacy and activism for the environment and a history of student activism leading to additions to library collections. What sometimes gets lost in the shuffle when working in this environment are the needs of our students who are financially insecure. As such, our institution does not yet have a dedicated affordable textbook or OER program. One of our student groups has recently started reaching out to the library to help raise awareness of student needs around high textbook costs. The student group is experienced in working with other students, but in the library, we are working with them to help craft a message that is appealing to faculty as well as students to help them achieve their goals. To date, we've held a panel for Open Education Week 2018 and are planning an exhibit for Open Access Week 2019. This session will discuss some of our difficulties and success in facilitating student-led activism for this important topic, our plans in continuing with our plans to take this to the wider campus community, and how to start creating library-student partnerships at your institution.
Speaker Bio: Mary-Michelle Moore is a Teaching & Learning Librarian at the University of California, Santa Barbara. Mary-Michelle holds a bachelor's degree from UCLA and an MLIS from Rutgers University. She is interested in social justice issues, critical librarianship, information literacy instruction online, and depictions of libraries and information work in popular media.

Speakers: Heather White and Holly Wheeler
Session Time: 3:00 - 3:45 p.m. CST
Session Title: Adding OER to the Library Collection: Acquisitions, Cataloging, and Digital Publishing
Session Description: Technical services and collection management librarians at Mt. Hood Community College wanted to add OER created by their faculty to their Library Collection, just as they would any commercially published book by their faculty. However, the lack of standardized metadata made cataloging problematic. This session will share two strategies for overcoming these challenges: an OER MARC template they created for ebooks, and an OER digital publishing service to standardize publication data that informs library cataloging.
Speaker Bios: Holly Wheeler, Library Cataloging & Metadata Specialist and Heather White, Library Technical Services & OER Coordinator work at Mt. Hood Community College. There, they leverage their information storage and retrieval expertise to improve the discovery experience for OER. When not working on OER projects, they spend their professional time on the operations of their library technical services department: eresources, serials, acquisitions, collection management, cataloging and processing, ILS system administration, and overall accessibility of their library's collection.

Follow @dlowewin
Speaker: Dawn Lowe-Wincentsen
Session Time: 3:00 - 3:45 p.m. CST
Session Title: Building an OER Program in the Sciences and Engineering
Session Description: Science and engineering texts are some of the most expensive books for students. With specialized information, tests and more, it is difficult to create new and low or no-cost items that are applicable across universities or even across programs. At Oregon Institute of Technology, the library is in its second year of supporting open, low, and no-cost materials specific to the sciences and engineering. with a $10,000 expenditure from the library budget, we saved students more than $220,000 in the first year. This session will talk about building the program, measuring success, and sustainability.
Speaker Bio: Dawn is the director of the Portland Metro campus Library for the Oregon Institute of Technology. She also serves on the Open Oregon statewide steering committee. A recent stint in leadership led her to OER, the open movement and finding partners dedicated to improving student success and information access.